Glutaric Acid
Glutaric acid (1,3-propanedicarboxylic acid) is a white crystalline solid which is very soluble in water. The compound is a useful building block for polymers, an intermediate in chemical synthesis and can be used to crystalise and purify diastereomers. The compound is also used in solder flux.
In our UK factory, Witton manufactures glutaric acid of high purity that is free from traces of mineral acids and is thus stable if dissolved in alcohols.
As standard the product is supplied as a free-flowing white powder packed in plastic kegs with anti-static liners.  Other packaging is available by request.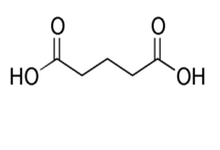 Properties of glutaric acid
| | |
| --- | --- |
| Melting point | 95-98ºC |
| CAS Number | 110-94-1 |
| EC Number | 203-817-2 |
Alternative names for glutaric acid include:
1,3-Propanedicarboxylic acid
1,5-Pentanedioic acid
n-Pyrotartaric acid
Pentandioic acid
Pentanedioic acid
To purchase glutaric acid of make an enquiry please Contact Us